Farming News - Devastating damage caused by flash floods to farms in the Yorkshire Dales
Devastating damage caused by flash floods to farms in the Yorkshire Dales
In Yorkshire fields are currently strewn with debris from collapsed dry stone walls, sheep have been killed or missing. Hay bales carried away or left ruined. The scale of devastating damage caused by the flash floods to farms in the Yorkshire Dales is revealed.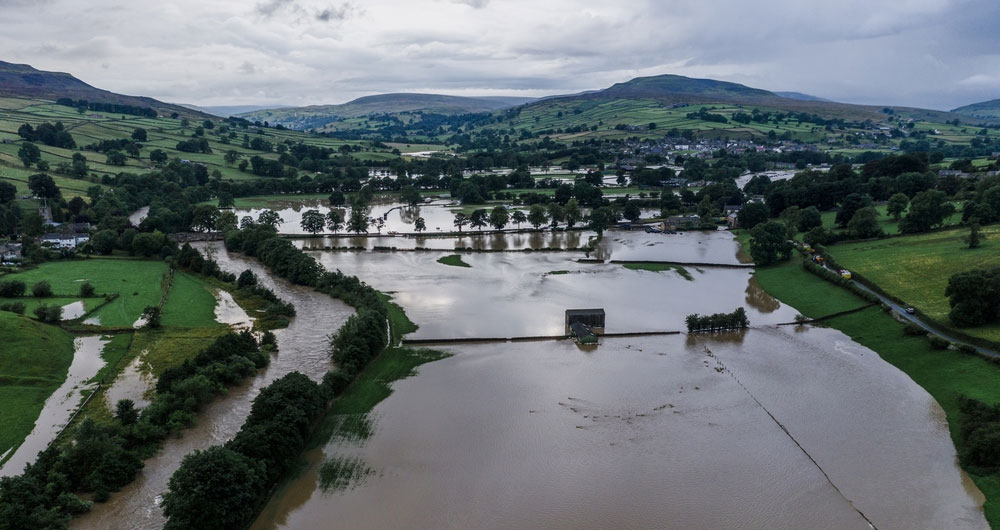 Environment Secretary Theresa Villiers said:
"This morning I am receiving regular updates from the ground on the situation in Whaley Bridge and the fast action being taken by the police and other agencies.
"Later today I will chair a meeting of the Government's emergency COBR committee to make sure everything possible is being done to draw down water levels, fix damage to the dam and protect homes and businesses.
"My thoughts are with those who have had to leave their homes and I would like to thank all emergency services, military personnel and all others for their continued hard work."
A Defra spokeswoman said the Environment Agency was working to support affected communities and advised farmers who will struggle to meet the conditions of farm payment schemes to contact the Rural Payments Agency.
The CLA said it had written to Farming Minister George Eustice urging him to commit to action to support those affected.
Dorothy Fairburn, northern director of the landowners' group said: "It is vital that Government acts quickly to do all it can to ease this distress and help rural businesses get back on track as soon as possible."
The NFU is putting its emergency contingency plans into effect and is urging affected farmers to register with them for recovery advice and assistance.
NFU regional director Adam Bedford said: "It's heart-breaking to see the damage caused by so much rain in such a short amount of time, but we know farmers are now 100% focused on getting back on their feet.
"Dales farmers are incredibly resilient, but they will need help to deal with the immediate and longer term complex impacts of this extreme weather event.
"This is about business resilience, how we get farm businesses to re-open and infrastructure repairs. Livestock's been lost, walls damaged - there's going to need to be something to address that.
"We have an experienced team locally and nationally now working to make sure all possible measures are in place – whether that's highlighting to the RPA those businesses known to be affected in a bid to ensure they receive prompt payments or working locally to make it as easy as possible for farmers to dispose of debris dumped on their land by the flood."
"We will also be working closely with key farming charities such as RABI and FCN to make sure that practical and financial help is available as well as support for family members during what is an incredibly stressful and emotional time," added Mr Bedford.
All affected farmers are being urged to call the NFU's national CallFirst number – 0370 845 8458 – and register.
Farmer stranded in tractor
Alan Kendall farms more than 300 acres in and around Reeth - the scene of some of the worst damage from Tuesday's nightmare floods that inundated the agricultural heartlands of Wensleydale and Swaledale with up to 82.2mm of rain in just 24 hours.
In the worst of the torrent, the farmer was stranded in his tractor on bridge for four hours as his hay bales were washed away.
Still trying to account for all his 650 breeding ewes yesterday, the 53-year-old had to cut short a telephone conversation to rescue a sheep found stranded up a tree.
Later, he explained: "The rising water had taken it up there. The river has risen about 12ft above normal and there is flooding over the best part of a mile.
"About 150 round bales have bobbed away, never to be seen again probably. About a mile of stone walls have come down, maybe more, and the stones are scattered across the fields."
The recovery operation is only just beginning but Grinton smallholder and Wensleydale Show chairman Kenton Foster said farmers' quick-thinking had at least limited livestock losses.
"They couldn't really move the silage but a lot of them have moved the sheep in a heck of a short time. There have been losses but there could have been a lot more," said Mr Kenton, whose sister's house in Bellerby was flooded.
Having moved his own sheep from grazing land in Reeth on Monday morning, he said he had simply got lucky.
The extreme conditions came as farmers were still recovering from poor grass yields last year when weather conditions stunted growth and led to inflated bills for buying in winter fodder supplies.
Mr Kenton said: "Everyone has been saying that this time they have had the most silage ever but it's no good when it's ripped and torn."
The weather caused a mountain bike festival to be cancelled, as the organisers of the 2019 Ard Rock, near Reeth in Swaledale, said flash flooding had "submerged" the site, which was due to host the event from Friday.
Farmer Raymond Caldert told BBC Breakfast the flooding in Grinton was the worst he had ever seen and, if the festival had been running, lives could have been lost.
"I haven't seen anything like this," he said.
Mr Caldert added he had not lost any livestock but the flood washed away most of his 160 bales of silage.
Local farmer Andrew Loftus, said he had seen hailstones almost an inch (2.5cm) in diameter.
The cost of the damage continues to be added up and the Wensleydale Show committee will be discussing the situation at a meeting on August 12.
Recovery Operation
Young people are set to take to the streets and fields in and around Reeth on Sunday to aid the recovery efforts.
Reeth and Wensleydale Young Farmers Clubs are co-ordinating a day of action, explained the Reeth's group secretary Georgia Hird.
"We know the farmers who have been affected the most and they have said we can help with putting up dry stone walls, cleaning up fields and we will be picking up rubbish from the streets.
"We'll meet in the middle of the village. The Memorial Hall will be serving teas and coffees and we will be taking cakes - anything we can do to help.
"Anyone who wants to help is welcome to join us."
Weather Warning
Today ( August 2nd) there is a flood alert in place for the Lower River Swale.
The Environment Agency said: "This flood alert remains in force as river levels remain high due to heavy rainfall earlier in the week.
"River levels at Maunby are falling and are expected to continue to fall into Friday. Levels at Crakehill are continuing to fall. Flooding of low lying areas and roads remains possible, please avoid these areas".
Flooding elsewhere in the UK
NFU Members affected by floods in the North West, please contact your regional office: Tel - 01695 554900
NFU Members affected by floods in the East Midlands, please contact your regional office: Tel - 01572 824250