Farming News - UK formally applies to join huge Pacific free trade area CPTPP
UK formally applies to join huge Pacific free trade area CPTPP
The UK is formally applying to join one of the world's largest free-trade areas, deepening trade ties with some of the fastest-growing markets in the world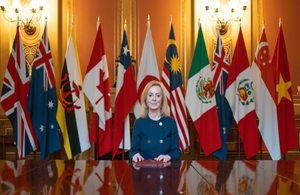 Joining the CPTPP would deepen the UK's access to fast-growing markets and major economies, a market of nearly 500 million people with eleven countries signed up to it: Australia, Brunei, Canada, Chile, Japan, Malaysia, Mexico, New Zealand, Peru, Singapore and Vietnam.
About CPTTP
Joining the £9 trillion partnership will cut tariffs for UK industries including food and drink and unlike EU membership, joining does not require the UK to cede control over laws, borders, or money.
UK trade with the group was worth £111 billion in 2019, growing by 8% a year since 2016. Benefits that CPTPP membership will bring for businesses include:
Modern digital trade rules that allow data to flow freely between members, remove unnecessary barriers for businesses, and protect commercial source code and encryption.
Eliminating tariffs quicker on UK exports including whisky (down from 165% to 0% in Malaysia) and cars (reducing to 0% in Canada by 2022, two years earlier than through the UK-Canada trade deal).
Easier travel for businesspeople between CPTPP countries, such as the potential for faster and cheaper visas.
International Trade Secretary Liz Truss said:""Joining CPTPP will create enormous opportunities for UK businesses that simply weren't there as part of the EU and deepen our ties with some of the fastest-growing markets in the world.
"It will mean lower tariffs for car manufacturers and whisky producers, and better access for our brilliant services providers, delivering quality jobs and greater prosperity for people here at home.
"We're at the front of the queue and look forward to starting formal negotiations in the coming months."
The UK will publish its negotiation objectives, scoping analysis, and consultation response in advance of negotiations expected to start this Spring.
Pros and Cons for Agriculture
CPTPP membership is a key part of the Government's plan to position the UK at the centre of a network of modern free trade deals that support jobs and drive economic growth at home.
UK agricultural producers could benefit from increased access to the CPTPP market. Areas in which there is potential to expand exports of high-quality UK produce include the beef, sheep and dairy sectors.
However, further exploratory work of the potential benefit gained from exporting to these markets through joining the CPTPP would need to be undertaken in order to give a comprehensive overview of the potential for UK agricultural exports.
The NFU is concerned that in becoming a partner in the CPTPP, the UK Government will be asked to increase market access for sensitive agricultural products.
It is clear that agriculture is an area in which there is much pressure on countries to expand market access. This is of concern as a reduction in tariffs could lead to a surge in cheap imports which do not adhere to UK high standards and would damage domestic production.
NFU supports the multi-lateral phased reduction of average tariff levels for agricultural products, but believes that the protection of sensitive goods on a global market should be a priority when negotiating trade deals.