Farming News - Save British Farming group demonstrate in London
Save British Farming group demonstrate in London
"Fed-up farmers" broke off from the busy harvest schedule to travel to Westminster and tell Boris Johnson's government "don't destroy Britain's world-class farming industry by striking cheap food trade deals".
Campaign group Save British Farming organised the demonstration at Westminster in London yesterday ( Wednesday 8th)
The socially-distanced demonstration headed along Millbank, on its way to Westminster in an attempt to convince the government to protect British high standards of production from imported lower regulated goods.
Aldi and Waitrose have recently announced that their stores would not sell chlorine washed chicken or hormone beef as a crucial debate on the Agriculture BIll begins in the House of Lords.
As it stands the unamended bill leaves out the protection of food standards in UK trade policy allowing cheap imports to enter Great Britain which farmers say will put them out of business.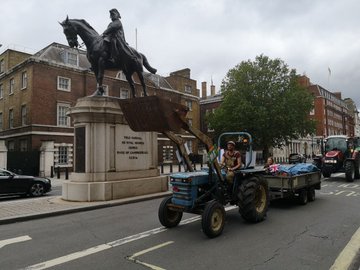 Pictures from twitter and facebook Save British Farming pages.