Farming News - Return of UK's Annual Beef Event - NBA Beef Expo
Return of UK's Annual Beef Event - NBA Beef Expo
The UK's only event dedicated to the British Beef Industry, The National Beef Association's annual Beef Expo event returns with an outstanding display of cattle classes, trade stands and seminar speakers.
The beef sector is facing huge change and challenge, so keeping abreast of developments is vital and that is exactly what the 2022 NBA Beef Expo aims to do. With thousands expected to attend the British beef industry's annual flagship event, NBA Beef Expo will take place at Darlington Farmer's Auction Mart, on Saturday 28th May.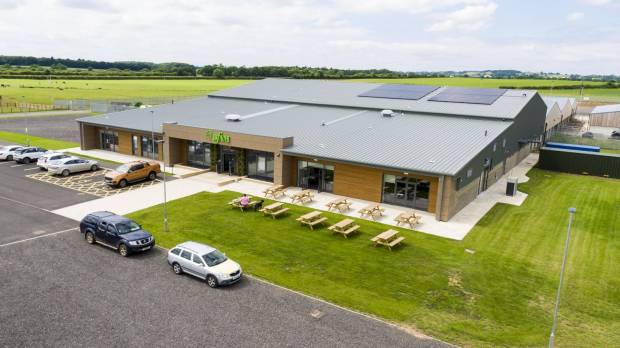 With over 100 head of some of the UK's best commercial cattle, representation from the UK's main cattle breed societies, and a programme of seminars with globally renowned speakers, this is a major annual event in the beef industry's calendar. Hosted by the National Beef Association (NBA), it is the UK's only event dedicated to the British beef industry and provides an important opportunity for farmers to access expert knowledge and advice.
Alongside the show of cattle, Beef Expo will also welcome a line-up of breed society stands and trade exhibitors, bringing the latest research developments, technology, and innovation. This gives beef farmers the chance to view demonstrations and discuss potential options and ideas to improve productivity and efficiency at home. An important part of the day are the series of seminars, this year's programme focusses on industry sustainability and animal health and welfare.
Commenting ahead of this year's event, NBA Chief Executive, Neil Shand, said: "It's fantastic to be opening the doors on the NBA Beef Expo once again, especially with such an incredible programme. Cattle entries are tremendous, and we have two extremely experienced and knowledgeable judges casting an eye over them in the show-ring."
Over 120 head of some of the UK's best commercial cattle will be presented for judging before experienced Welsh duo, Bryn Lloyd and Daffyd Lewis. Bryn will judge the Native and Continental classes, as well as the Supreme Championship, while Dafydd will judge the Baby Beef classes, Baby Championship and Young Handlers.
With an overall prize fund of £6000, this year, the National Commercial Cattle Show will consist of 10 classes, including the new class for steers by any other Continental or Cross Bred sire. In addition, the South Devon Cattle Society will host its Performance Championship for the fourth year at the event.
"As well as the cattle show, Beef Expo is a platform for knowledge sharing and networking, through the exhibition of trade stands and demonstrations and the phenomenal line-up of seminar speakers. These really are world leaders in their fields, and the knowledge and information they will bring will be invaluable." Said Neil.
Seminars speakers include specialist Professor Alice Stanton RCSI, who has done invaluable work on the importance of red meat to human health; Cambridge MP Daniel Zeichner, who currently serves on the Opposition frontbench as Shadow Minister for Food, Farming, Fisheries and Rural Affairs; Christine Middlemiss, the UK's Chief Veterinary Officer; and Will Jackson, AHDB's Strategy Director for Beef and Lamb.
Seminar Timetable:
10:00 – 11:00 Future Agriculture Support
11:30 – 13:00 Sustainable Beef Sourcing, Production and the Benefits for Human Health
13:30 – 14:30 Animal Health & Welfare
15:00 – 16:00 MEAT the Team
Also included in the line-up are independent Livestock Sustainability Consultant, Dr. Jude Capper; Sarah Tomlinson, MRCVS, Technical Director for the TB Advisory Service and member of the bTB Partnership;Sophie Throup, Head of Agriculture, Fisheries and Sustainable Sourcing for Wm Morrison PLC; and Boehringer Ingelheim's Ruminant Veterinary Adviser, Kath Aplin.
Farm Tours
As in previous years, one of the highlights is the Farm Tours, which will take place on Friday 27th May prior to Beef Expo and will feature a large beef finishing unit, and one of the foremost Limousin breeders in the north of England. Opening their farm gates are the Richardson family from Bracken House, Melsonby, North Yorkshire, and the Suddes family from South Farm, Cornsay, County Durham.
The 2022 NBA Beef Expo is supported by mainline sponsors Darlington Farmers Auction Mart, Vickers and Barrass, Farmers Guardian, Dunbia, Woodhead Brothers, Morrisons, Limousin, AHDB, Lely and Boehringer Ingelheim.
In concluding Neil said: "This is the annual event for the Beef Industry, and we are all absolutely delighted that we have been able to bring together a world class line up. It is going to be a true celebration of the beef farming sector. The support which we have received from everyone at Darlington Farmers Auction Mart, our many sponsors, the Committee and our volunteers has been tremendous – without them this event really would not be possible."
Tickets for Beef Expo and the Farm Tours can be purchased online in advance at https://bit.ly/BeefExpoTickets.