Farming News - NFU Cymru Council elect New President and Deputy
NFU Cymru Council elect New President and Deputy
John Davies, a beef and sheep farmer from Powys, has been unanimously elected to become the new President of NFU Cymru. Aled Jones, a dairy farmer from Mid Gwynedd, has been elected to the role of Deputy President for the next two years.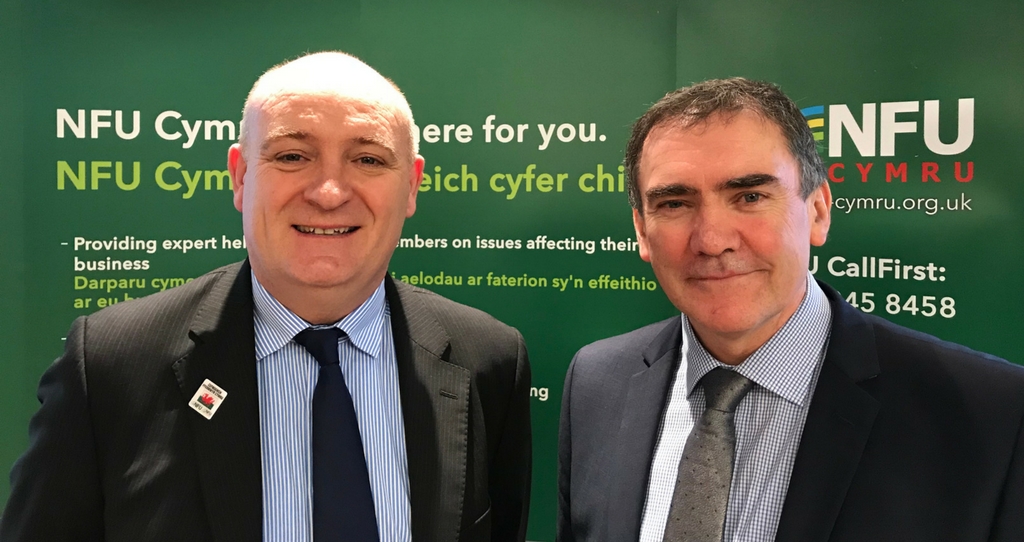 New NFU Cymru President John Davies farms with his family in Merthyr Cynog, near Brecon. He is married to Menna with two children, Sioned and Brychan. He has 100 suckler cows, 1,000 ewes, and runs a silage contracting business and holiday accommodation.
John is currently club leader of his local Pontfaen YFC and a community councillor. He was President of the Royal Welsh Agricultural Society in 2012 and currently sits on the RWAS Board of Management.
Speaking following his election, John Davies paid tribute to outgoing President Stephen James for his hard work on behalf of the industry over the course of his four year term
Mr Davies said his priorities during his term in office would be to ensure that the Welsh agricultural industry gets a good deal out of Brexit, tackling bovine TB, addressing water quality in Wales, holding retailers to account on food labelling and ensuring a fair price for everyone in the food chain and also creating greater opportunities for the next generation of young farmers in Wales.
He said: "I am looking forward to the task of leading the Union over what is sure to be a challenging time for the agricultural industry in Wales as the UK negotiates its departure from the European Union. There is no time to waste and I can assure members and the wider industry that we will be doing everything in our power to champion the industry and lobby with politicians in Cardiff Bay, Westminster and Brussels to ensure the best future for Welsh farming."
Aled Jones, an eighth generation dairy farmer, farms near Caernarfon with his son Osian. They run a herd of Holsteins and sell their milk to Tomlinson's Dairies in Wrexham. Aled is currently Chairman of the Cattle Information Services (CIS) and a member of the Welsh Dairy Leadership board.
On being elected as Deputy President, Aled Jones paid tribute to his fellow candidates, Wyn Evans and Hedd Pugh, and said he looked forward to continuing to work with them as part of a strong and committed NFU Cymru officeholder team.
Following his election at NFU Cymru Welsh Council, new NFU Cymru Deputy President Aled Jones said: "I am honoured and deeply humbled to have been elected by my peers as Deputy President of this tremendous organisation. One of the strengths of NFU Cymru is the way that officeholders work as a team to safeguard all sectors and ensure they are well represented. I look forward to working with John and the NFU Cymru team over the next two years."
The meeting of NFU Cymru Welsh Council also saw the Union finalise its wider officeholder team. Those elected included Peter Francis, LAS Legal Board; Haydn Evans, Organics; Gareth Richards, Milk; Richard Tudor, Less Favoured Area (LFA) Perkin Evans, Combinable Crops; Hedd Pugh, Rural Affairs; Victoria Shervington-Jones, Poultry; Elwyn Evans, Tenants; Wyn Evans, Livestock.
NFU Cymru Director John Mercer added: "I would like to congratulate John and Aled who have been elected to the roles of NFU Cymru President and Deputy President respectively. Their appointments complete the dynamic new NFU Cymru officeholder team and I am sure that they will lead the industry through the significant challenges that lie ahead."
Out-going President, Stephen James, wished both John and Aled every success in tackling the challenges ahead and thanked both NFU Cymru members and staff for all their help during his term as President.