Farming News - High speed broadband to become a legal right
High speed broadband to become a legal right
The Government has confirmed today that universal high speed broadband will be delivered by a regulatory Universal Service Obligation (USO).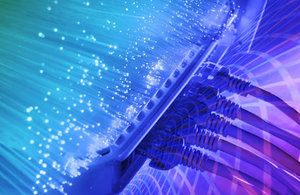 An offer from BT to deliver a universal service on its own terms was rejected by the Government. BT Openreach, the largest provider of fixed line broadband infrastructure, consistently opposed the USO to give every household or business premises the right to an internet connection of a legally set speed of at least 10 megabits per second (Mbps).
The CLA which represents landowners, farmers and rural businesses welcomed the regulation.
CLA Senior Rural Business Adviser Dr Charles Trotman said: "The challenges of rolling out fast, reliable and affordable rural broadband are well known but have been recognised by the Government with the commitment to provide a universal service obligation of at least 10 Mbps from 2020.
"For too long, rural areas have been at the back of the queue when it comes to investment in infrastructure and that is why this legal principle is not something to compromise on. Rural areas now stand a better chance of receiving a decent broadband service without BT monopolising the market and deciding its own terms for connection.
"It is vital for the Government to move as swiftly as possible towards meeting its objective of universal coverage in 2020 and to ensure legal guarantees are set for any future universal obligation. Ten Mbps is only a benchmark minimum speed which is sufficient now but as technology advances could be too slow in just five years' time."
Sarah Lee, Head of Policy, of the Countryside Alliance said "Providing a legal right to demand 10 Mbps by 2020 means that homes and businesses in rural areas will be able benefit from being digitally connected. However, our main concern that this is a false promise, although rural areas will have the right to access broadband they may not be able to afford it due to extortionate prices. The right to broadband should not be based on postcode lottery. We will work to ensure that the Government doesn't prices those in rural areas out of the market and that the whole of the UK is digitally connected at a cost they can afford.
"It is now imperative that providers, Government, and Ofcom work together to deliver this legal right by 2020. We will monitor progress and hold the Government's feet to the fire if they fail to deliver the legal right by 2020."
Following the Government's announcement Culture Secretary Karen Bradley said:
"We know how important broadband is to homes and businesses and we want everyone to benefit from a fast and reliable connection. We are grateful to BT for their proposal but have decided that only a regulatory approach will make high speed broadband a reality for everyone in the UK, regardless of where they live or work.
"This is all part of our work on ensuring that Britain's telecoms infrastructure is fit for the future and will continue to deliver the connectivity that consumers need in the digital age".