Farming News - Farmers gather at Tory conference as NPA urges retailers to shun cheaper EU pork
Farmers gather at Tory conference as NPA urges retailers to shun cheaper EU pork
The National Pig Association has pleaded with the country's retailers to continue buying local pork and not cheaper EU products and warning that many producers would go to the wall if they were not properly supported during this crisis.
Pig farmers have gathered at the Conservative Party Conference Manchester to highlight their plight to politicians and public alike. Their activities can be viewed here: https://twitter.com/SaveGBBacon
A shortage of butchers and slaughterers in the meat processing industry has left processors operating at a 25% drop in their capacity. Thousands of pigs are trapped on farm and are facing an imminent cull.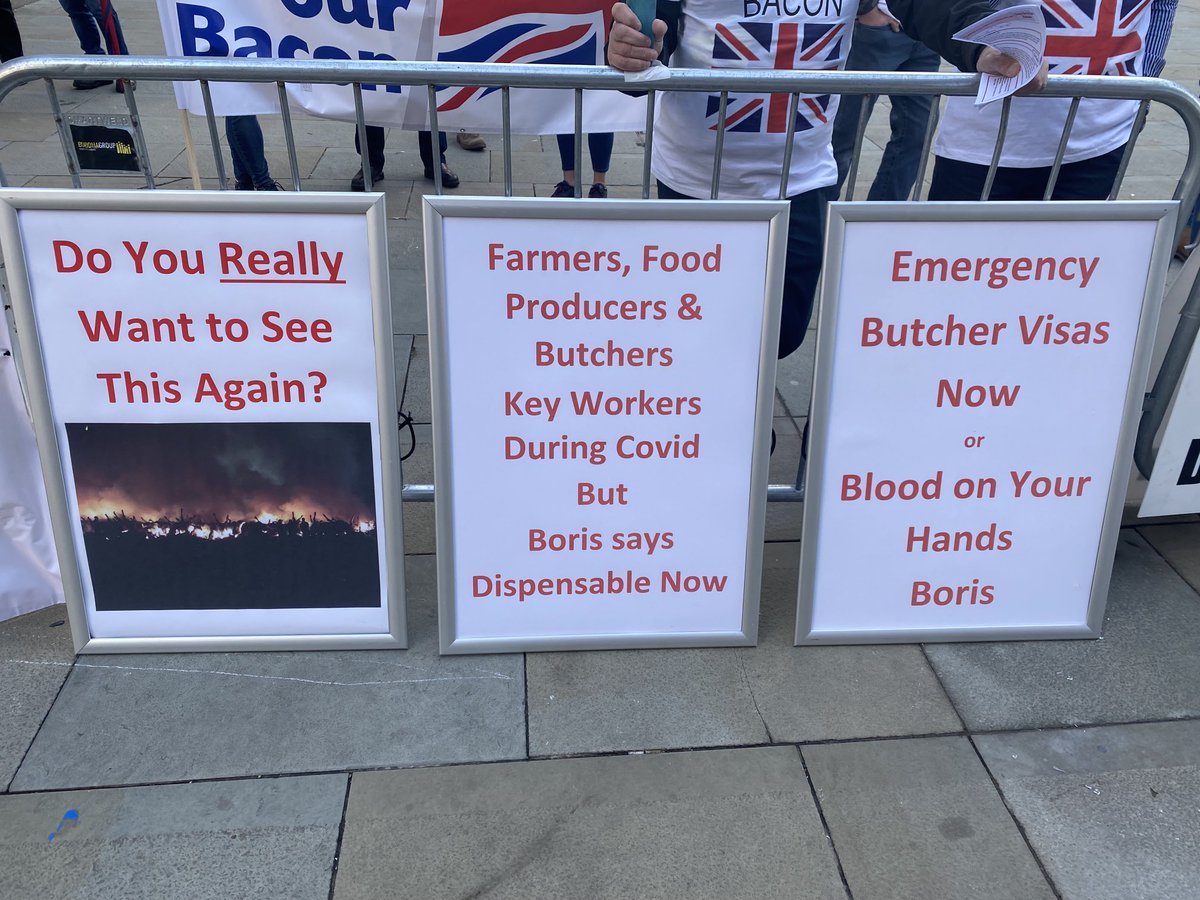 "We are also aware that some retailers, who have to date been very supportive of their British supply chains, are now considering moving over to EU pork because it is much cheaper," the Association has said in an open letter to retailers.
"This would make our situation so much worse to the point that many more pig producers, in addition to those responsible for the 27,500 sows we already know about, would have no choice but to exit the industry."
COVID-19 and Britain's post-Brexit immigration policy, has restricted the flow of east European workers the NPA have said.
They said that despite attempts to persuade the government to ease immigration rules, it appeared to have reached an "impasse".
NFU president Minette Batters has already issued a plea for the Government to act to avert a welfare disaster for the pig sector on the BBC Newsnight programme.
She warned that 150,000 pigs could be culled unless the Government issues visas to allow more butchers into the country.
Mrs Batters described the current labour shortage situation within the find chain as 'exceptionally serious' with 43% vacancies in the processing sector, including a 'massive shortfall' of butchers, a 35% shortfall on seasonal farm workers and 11% on drivers.
"We have a got a real crisis situation building in the pig sector, whereby pigs are not coming through onto the marketplace as they are being held back on farm. This will be an animal welfare crisis if it is not resolved.
"We have been looking at a welfare cull potentially of 150,000 pigs. This cannot happen – it is potentially a week/10 days away and it has to be resolved."
The NPA highlighted an interview on the Andrew Marr show where Boris Johnson blamed the industry for the staff shortages in abattoirs for not paying enough or creating attractive working conditions. While the industry is calling for temporary visas, he spoke of not wanting to return to 'uncontrolled immigration'.
His comments prompted a furious industry response on Twitter.
"This is absolutely disgusting… I've never seen such wilful disregard and disrespect in my life. You should be ashamed @BorisJohnson This is your mess. Time to fix it," NPA chief executive Zoe Davies tweeted.