Farming News - Ag Bill ensures the "vital role of farmers as food producers"
Ag Bill ensures the "vital role of farmers as food producers"
The farming industry has responded to today's Agriculture Bill - read their comments below.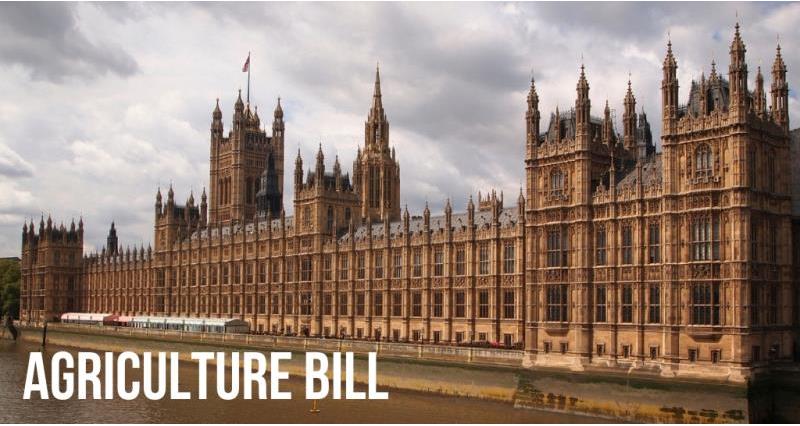 NFU President Minette Batters:
"This Bill is one of the most significant pieces of legislation for farmers in England for over 70 years and it is absolutely vital that it is tailored to farming's specific needs and ambitions.
"Our farmers provide the nation with safe, traceable and nutritious food produced to some of the highest standards of animal welfare, environmental protection and food safety in the world. With the right policy framework in place we can build on this to lead the world in the production of climate-friendly food and realise our ambitions to reach net zero by 2040.
"I'm pleased that the government has clearly listened to many of the concerns we raised with the Bill in the last Parliament and has acted to ensure the vital role of farmers as food producers is properly valued. However, farmers across the country will still want to see legislation underpinning the government's assurances that they will not allow the imports of food produced to standards that would be illegal here through future trade deals. We will continue to press the government to introduce a standards commission as a matter of priority to oversee and advise on future food trade policy and negotiations.
"It is encouraging to see that the Agriculture Bill now recognises that food production and caring for the environment go hand-in-hand. Farmers are rightly proud of their environmental efforts and it is crucial this new policy recognises and rewards the environmental benefits they deliver, both now and in the future. Alongside this, the government's commitment to invest in supporting farmers to improve productivity will be critical, given the delivery of sustainable and climate-friendly food systems cannot be achieved in the absence of viable and profitable farm businesses.
"A commitment to regularly report on food security to Parliament is reassuring but this must be more than simply a box-ticking exercise. It is vital that British farming continues to contribute a significant proportion of our nation's food needs and that we set the ambition of growing more, selling more and exporting more British food. We look forward to more detail about how exactly the food security provisions will operate and how they account for the strategic importance of a robust and resilient domestic farming sector.
"The commitment to long-term future budget has addressed a significant concern of ours and will provide much needed clarity for farmers. We recognise that the way farmers are supported will change and the announcement to regularly report, evaluate and monitor how the schemes will operate will go some way to ensuring that any money taken from farmers as part of the phase out of the Direct Payments (BPS) will stay within farming. With our future relationship with the EU, our largest export market for agri-food products, still unclear, the government must ensure farmers remain sufficiently supported to weather any economic storms ahead."
Peter Snodgrass, partner and agriculture specialist at law firm, Shakespeare Martineau
"The Bill's arrival signals a renewed focus on agriculture, which will no doubt please UK farmers, especially given the turbulence experienced in recent months.
"The proposed requirement that the Government will have to report regularly to Parliament on food security may be a confidence booster for those farmers worried that food production was being sidelined in favour of other activities. Most farmers want to produce food and the Bill reassures that this is still a priority, underpinning the UK's future food security.
"This intent from Government goes hand-in-hand with high standards expected for animal welfare and the environment. When future trade deals are struck with non-EU countries, the UK must ensure that overseas producers meet the same stringent criteria as their domestic counterparts.
"Changes to subsidy payments based on management of land areas (in 'good agricultural and environmental condition') were inevitable given the UK's exit from the EU - and even within the EU they are due to decline - and most of the proposals in the Bill aren't a surprise. One mooted point which needs further clarification relates to farmers being able to take a lump sum subsidy payment, in place of the annual payments, which are to continue until 2027. Doing this could give farmers the working capital to push through larger investment programmes, or even to plan more effectively for their future or retirement."
Martin Lines, Chair of the Nature Friendly Farming Network:
"We welcome the Agriculture Bill returning to Parliament as one of the most important agricultural reforms we've seen in decades. To safeguard food security, farmers must be supported so they can protect and enhance our wildlife, soil and environment. Farming policy needs to deliver a system based on public money for public goods, as this will ensure we also tackle the climate and ecological emergency.
"Productivity shouldn't just be about producing more food; it must not be an expense to the environment, and should involve farmers delivering healthy food at world-leading standards. This new Agriculture Bill needs to be clear and transparent
CLA President Mark Bridgeman :
"This is welcome news after a year of political stalemate."
The transition period is set to begin from 2021, but the delay in the Bill and the lack of clarity of how direct payments will be removed during the transition period means there is still much uncertainty among farmers and land managers.
The seven-year transition period will see the removal of direct payments, which have been the mainstay of support for many years, and a move to the new Environmental Land Management Scheme (ELMS) that will only be fully available from late 2024 under current plans.
Mr Bridgeman added: "However, the Government should allow proper time for rural businesses to adjust and adapt, ideally by delaying the start of the transition by 12 months. This would allow farmers to make long term plans, once the details become clearer of both the crucial trade deal and future schemes.
"We warmly welcome guarantees of funding for the lifetime of this Parliament, but farmers need to know how it affects them personally. Government should set out the profile of the transition and how ELMS will work in detail as a matter of urgency and guarantee that there will be no delays in its implementation."
The CLA is supportive of the shift towards payment for public goods which will reward all farmers and land managers who deliver for the environment and society.
Crispin Truman, chief executive of CPRE, the countryside charity:
This bill represents a radical rethink of farming practice and, most importantly for CPRE, finally starts to recognise the need to regenerate soil - the fundamental building blocks of our entire agricultural system.
For almost all our food, we rely on rainfall falling on a thin layer of soil which is often only a few centimetres thick. But soil is fragile and faces significant pressures.
In a notable change from the Bill published in 2018, the government will now provide support for farmers to improve the management of their soil, as recommended in CPRE's report 'Back to the land'.
"This Agriculture Bill has been a long time coming but it's clear the government has listened to CPRE's message about the importance of soil. Healthy soil is essential for the supply of healthy food, clean water and also helps us lock up carbon to tackle the climate and nature emergency.
"As new payment schemes for farmers are developed, there must be clear support for approaches already being pioneered and made to work by farmers such as agroforestry and conservation agriculture. But farmers need training, mentoring and advice to help them roll out nature friendly farming across the countryside."​
Kierra Box, campaigner at Friends of the Earth:
"Making sure there is enough healthy, sustainably produced food for everyone is a positive aim in this Bill, but technology is not a magic bullet. Future food productivity will rely on protecting and restoring natural services such as pollination and soil health.
"As well as being key for food productivity, environmentally friendly farming is a crucial part of fixing the climate and nature crisis. But, as we begin to trade independently, UK efforts could be undermined by imports from countries that have lower environmental, food, and animal welfare standards. The government must add a legal commitment to prevent trade deals from forcing lower standards on the UK."
Ian Wright CBE, FDF Chief Executive:
"UK food and drink manufacturers purchase the majority of what UK farmers grow and produce. We will work closely with our friends in the NFU to ensure the UK's future food and agriculture policy delivers for all parts of our £121 billion food supply chain.
"As the Government embarks upon trade negotiations with the EU and partners around the world, it is vital that we prioritise the quality and choice of UK food and drink, and safeguard the confidence of our consumers and shoppers in our world-class industry. The UK's 8,000 food and drink manufacturers must continue to have access to adequate supplies of raw materials that are safe, of high quality and competitively priced.
"We welcome the commitment from government to keep our food security under review. It must assess both domestic production as well as vital ingredients and goods from overseas. We are committed too to reducing our own environmental impacts and to working with others to increase resource efficiency and help protect natural capital across the supply chain."
"Alongside Henry Dimbleby's work on the National Food Strategy and the forthcoming Environment Bill, we hope a joined-up approach from the Government will ensure UK food and drink continues to be a great national success story."